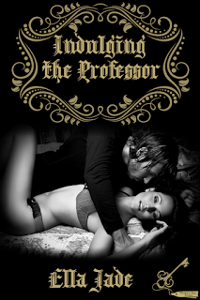 Title:
Indulging the Professor
Series:
Pleasure Inn Series #

2
Release Date:
May 2, 2013
Buy the Book:
Amazon
A Pleasure Inn Series Steamy Short.
Featuring Logan and Elyse from Master of The Inn.

Meet the first guests to stay at Pleasure Inn…
Where all of your fantasies become reality.

Professor Marcus Santos has become unsatisfied in his life. His career is at an all time high but he has no one to share it with. He's buried himself in his work for so long he's missed out on a social life. His policy of not dating university students has limited his search to find the perfect girlfriend. While out at a bar one night he runs into his intriguing research assistant. Their brief encounter changes the dynamics of their relationship.
Shy graduate student Jacqueline Kincaid has been taken with Professor Santos since her freshman year. His charismatic personality and driven work ethic drew her to him, but now that she's getting to know him on a personal level she can't get him out of her head. He shows interest in her but won't take things further than kissing.
Marcus offers her a special graduation present. Spend two nights at Pleasure Inn with him. Jacqueline jumps at the chance to move forward in their new relationship. Now that she's no longer his student he wants more with her. Pleasure Inn is just the place to make all of their fantasies realty.
Also in this series: