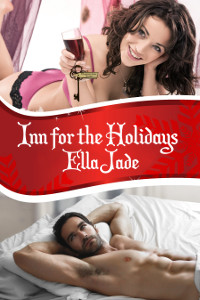 Title:
Inn for the Holidays
Series:
Pleasure Inn Series #

3
Release Date:
November 11, 2013
Buy the Book:
Amazon
Innkeepers Logan and Elyse Cole have been making people's fantasies a reality for the past six months at their popular bed and breakfast. While running Pleasure Inn has been a rewarding experience for the happy couple, it also requires long hours and busy weekends. Catering to their guests' whims and fantasies doesn't leave much free time for the Coles. They need a few days to reconnect and indulge in their own fantasies.

Logan makes that happen with a surprise gift to his wife. He reserves the inn for just the two of them several days before Christmas. Two nights of uninterrupted romance is exactly what this couple needs. Logan reminds Elyse what drew her to him in the first place. He vows to make good on his promise to always make all of her fantasies a reality.

She wants nothing more than for the Master of the Inn to make an appearance this holiday season.
Also in this series:
A Pleasure Inn series short, featuring Logan and Elyse from Master of the Inn.
All books in this series can stand alone and/or can be read in any order.
This is a quick steamy read.
Content Warning – Graphic sex and explicit language