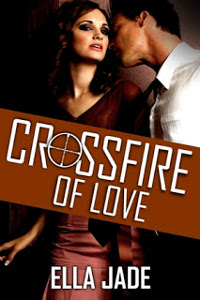 Title:
Crossfire of Love
Genre:
Erotic Contemporary Romance
,
Standalone
Release Date:
March 16, 2012
Buy the Book:
Amazon
Gabriella has finally married the man of her dreams, the older, charismatic attorney Lorenzo Martinez. She's had a crush on him for as long as she can remember and always imagined they'd one day find their happily ever after. Unfortunately, they enter into a union arranged by their fathers.
Lorenzo is charming, protective and loyal to his crime lord father Carlo. When Carlo asks Lorenzo to marry Gabriella he jumps at the opportunity. He's been drawn to her for many years and knows by marrying her, he's helping to protect her father.
Gabby is resentful in the beginning and won't be Lorenzo's charity case. Sparks soon fly and the couple give into their desire realizing they were meant to be together. What happens when Carlo's enemies threaten their future? Will someone get caught in the crossfire?