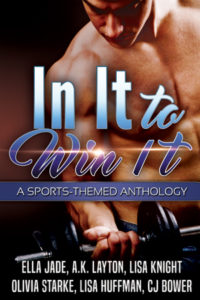 *GET THIS BOOK NOW FOR THE DISCOUNTED RELEASE PRICE OF 99 CENTS*
Six steamy stories to take between the sheets…
HITTING IT OUT OF THE PARK by Ella Jade
Francesca "Frankie" Cuttino relocated to the baseball-obsessed town of Kingston, RI to start a new life. Welcoming the break from her ex-fiancé, she takes comfort in the much needed alone time, but her sexy new neighbor, Jed Silver, has her rethinking the single life. She's shocked when she discovers that he's the newest member of the Kingston Crushers and the town's latest obsession. As baseball fever overtakes the town these two heat up the sheets, making for one explosive summer, until Frankie's past catches up with her.
JAB by A.K. Layton
Sabrina Alenin is a self-assured young woman who has a clear plan for her future. As a YouTube blogger who is gaining momentum, she needs the right type of man to help her create her own empire. A wealthy, older man who likes hot blondes. Mixed martial arts fighter Silvio Almeida doesn't fit the bill, no matter how infuriatingly irresistible she finds him. In training for an upcoming fight, women aren't on Silvio's radar. But their paths keeps crossing, and in the end they will both have to discover if the best future is the one unplanned.
SOCCER MUM by Lisa Knight
When Maggie's son joins a soccer team she hopes it will be an opportunity to meet new people and move forward. A broken marriage and returning home to live with her parents wasn't quite how she'd envisioned her thirties. Agreeing to play soccer herself as part of the parents' team, Maggie requires a little extra coaching. Leo is happy to assist, and Maggie becomes captivated by the former professional player. But as her ex-husband pressures her to re-kindle their relationship, Maggie's guilt reaches overdrive. How can she consider a future with Leo when there's a chance of putting her family back together?
SECOND TIME AROUND by Olivia Starke
Kelly has dedicated her life to caring for the horses at her off-track Thoroughbred rescue. When she's forced to sell part of her land to cover expenses, she's shocked by who buys it—her high school sweetheart, Dustin. Seeing him brings back memories of the most painful time of her life. Not only had she lost the man she thought she would spend forever with, she also lost her twin brother. And for years she held Dustin responsible for his death. Kelly and Dustin start to rekindle the love they once shared, but that may come to screeching halt when she learns his secret. A secret that could drive her away forever.
ALL YOU WANTED by Lisa Huffman
Football superstar Wade McKinney is crushed when he's cut from the team. In order to make a comeback, he needs to focus on becoming the best player he can be. Leaving town for a fresh start, he takes a job as a sports reporter at a TV station. With no room in his life for anything else, Wade denies his attraction to co-anchor Rebecca Ryan. Wade only sees a future in football and Rebecca, who is busy trying to help her family deal with a tragedy, doesn't have time for a relationship. But when fate steps in, Wade and Rebecca just might find something they weren't looking for in each other.
LOVE IN VICTORY LANE by CJ Bower
Racing is all Catalina has ever wanted to do. She's spent years climbing the ranks and paying her dues. Now she has finally made it to the highest level in NASCAR and is on the eve of starting her rookie season. Her new crew chief, Chad, is incredible. He's just the guy to help her reach her goal. However, she hits a speed bump when the sizzling chemistry between them carries over to their personal lives, which could damage both of their careers. There's another man lurking in the background who wants Cat for himself and will stop at nothing to claim her. Will Cat find love in Victory Lane, or will her career crash and burn before she leaves the starting line?
Content Warning: each of these stories contain a hot athlete and scorching sex scenes